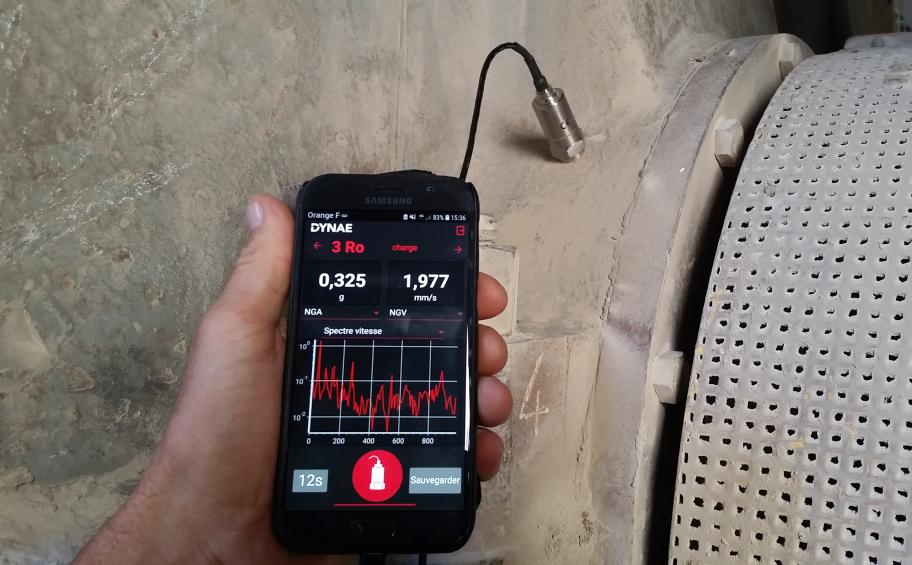 "In the past, some of our customers, visiting plants abroad or on remote industrial sites, have had the reflex to send us videos of machines to ask us for a first opinion", says Jean-Luc Vasselin , Director of Eiffage Energie Systèmes - Dynae. "In order to propose an initial diagnosis, we then isolate the soundtrack signal to analyse the noise of the machine with our DynamX software", he continues.
Developed in order to respond to increasing demand for diagnoses, the Dygivib application complements the offering in this area. It is associated with Dygit1, a digital accelerometer with magnetic base which connects directly to a smartphone or tablet. The Dygivib application allows you to record the raw time vibration signal directly analysed by DynaeExperts.
"Our customers can use the application and measure many real-time indicators as part of a spot check, to predict a failure or initiate troubleshooting. They can also use it to check that their machines respect the standards of vibration in force. If they want a further analysis of the data collected, they can, at any time, use our services. The first analysis of measurements is free and then we propose an assistance package", says Jean-Luc Vasselin.
The data sent by Dygivib is directly compatible with the DynamX expert survey software used by Dynae personnel and a hundred or so customers. It is worth noting that the CTMO 4-channel mobile time collector, developed by Dynae for periodic vibration monitoring on rotating machines, is also compatible with this data format.
The Dygivib app has been available for free on Google Play Store since the beginning of the year. The Dygit1 case containing the sensor and its accessories is also available for sale at Eiffage Énergie Systèmes - Dynae.
Photo credits: © Eiffage Énergie Systèmes