Infrared thermography is widely used for checking hot spots in electrical cabinets, and is recommended by insurers there as a preventive measure.
Dynae also uses it for thermal monitoring of machines, refractories of furnaces and boilers, as well as buildings.
Aerial thermography, using a drone or an airplane, makes it possible to monitor heat losses from roofs, urban heating networks, or even faults in solar panels.
Monitoring of electrical cabinets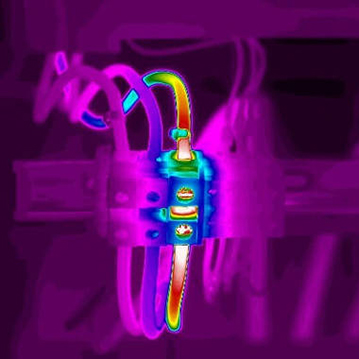 It is widespread on production sites, as well as in the tertiary sector. In fact, insurers encourage them to carry out periodic checks which are well defined in the D19 reference system, in order to prevent the risk of fire and therefore to reduce insurance premiums.
In order to carry out the measurements, the electrical consumption must be sufficient to reveal the anomalies which result in hot spots. The current is sometimes measured in addition to checking the load and decide whether there is a fault on a component or a phase imbalance.
All the views showing a fault are stored and if the corrective actions are carried out immediately, a monitoring measurement can be carried out in real time.
Our advantages: our operators are CNPP certified
Thermal monitoring of buildings and refractories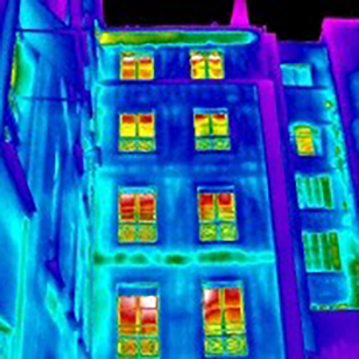 Infrared thermography makes it possible to locate thermal bridges and insulation faults on the walls and roofs of buildings.
In industry it is used to determine the condition of furnace refractories, heat insulators, which allows work to be planned during shutdowns.
Our advantages: high resolution IR cameras
Airborne thermography of heating networks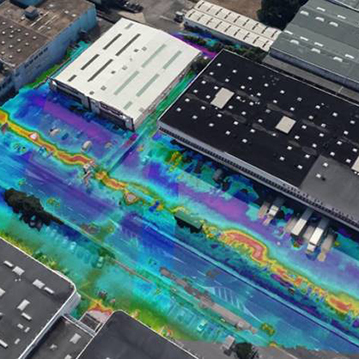 The aim is above all to locate leaks and areas of heat loss in a heating network, but also to trace the network blue-prints. The measurements are taken by plane or helicopter when the weather is cold and dry. The routes are transferred onto the base maps with their thermal analysis.
Short-length networks can also be audited by drone.
Thermography of solar power plants by drone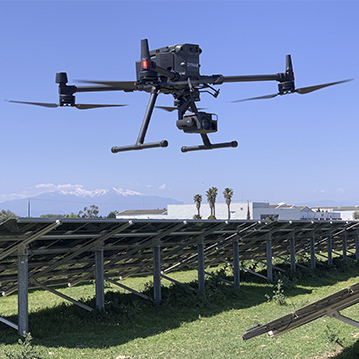 The detection of faulty cells is carried out using a drone equipped with an infrared camera, under well-defined exposure conditions. The operator will therefore be able to correct the faults and maintain optimum performance from his photovoltaic farm. The faults are then copied onto the blue-print.
Our advantages: equipment and a dedicated team