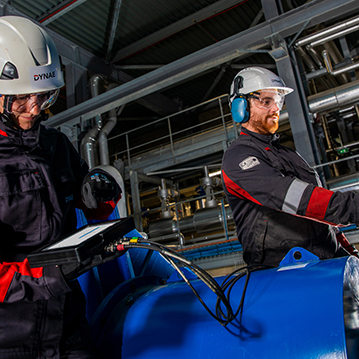 The thematic courses are dedicated to the improving diagnoses on particular components: bearings, plain bearings, gears, noise and vibrations of flows, torsional vibrations, dynamic structure analyses.
TDE course - GEARS - in association with FERRY CAPITAIN
Gear technology and diagnoses
Duration

Option

Visit to the Cambrai manufacturing workshops ( 1/2 day - subject to prior acceptance for non-competition)

Location

Denain Foundry and Steelworks or CMD Cambrai

Prerequisites

V2 courses (or equivalent)

Objectives

To learn about gear technology and sizing
To learn about failure modes and associated symptoms
To acquire the technique of advanced diagnoses on gear transmissions, by means of vibration, electrical and tachometric analyses

Target audience

Mechanical services personnel familiar with vibration diagnoses and wishing to improve their expertise in gear diagnoses.

Programme

Technology and sizing of gears led by FERRY CAPITAIN
Failure modes
Typology of gears in good condition
Typology of damage or malfunctions
Advanced signal processing techniques applied to mesh diagnoses
Study of torque fluctuations by electrical and tachometric analyses
Typological indicators specific to the monitoring and diagnosis of gear transmission systems
Implementation of measurement and analysis techniques on the FERRY CAPITAIN gear educational test bench

Participants can bring their own case studies if they wish

OPTION: visit to the CMD workshops in Cambrai: Campagnie Engrenages et Réducteurs Messian Durand. This historic factory has very advanced tools and technology for large gears.

The advantages

Additional expertise of a manufacturer and a diagnosis expert
Practical work on FERRY CAPITAIN gear test bench
Very advanced case studies on the subject of gears

Training given in association with FERRY CAPITAIN
DVT course - Torsional vibration diagnoses
Measurements and interpretation of speed, torque and electric current signals applied to dynamic torsional analyses of shaft lines
Duration

Prerequisites

V2 courses (or equivalent)

Objectives

To learn about the causes and remedies of torsional vibrations of shaft lines
To learn how to measure and analyse instantaneous rotation speed signals, torque fluctuations, and motor current modulations for generators as diagnosis tools

Target audience

Mechanical services personnel familiar with vibration diagnioses and wishing to improve their expertise in the field of diagnosing phenomena generating torsional vibrations or torque fluctuations.

Programme

Diagnosis of faults inducing torque and speed fluctuations: backlash, regulation faults, roto bars, coupling faults, cardans, torsional resonance, etc.
Advanced techniques for processing this type of signal
Definition and implementation of monitoring indicators

The advantages

Dynae is a pioneer in these techniques and has developed dedicated tools
Expert training with advanced theoretical aspect
Highly specialised case studies on torsional vibrations
VPF course – Diagnosis of machines on fluid bearings
Principle and implementation of the techniques used
Course developed in collaboration with SAMR SAS
Duration

Option

Advanced vibration analysis (1 day)

Rotor dynamics: modal behaviour, influence of the bearing and the oil film, rotational and precession movements, critical speeds
Signal processing in transient mode
Symptomatic vibratory typologies of faults

Venue

Prerequisites

Objectives

Know the technology and sizing of plain bearings
Understand the operation and dynamic behaviour of machines on fluid, hydrostatic and hydrodynamic bearings
Carry out the diagnosis by means of vibration analysis of machines on fluid bearings

Target audience

Staff with a good knowledge of vibration diagnoses.

Programme

Bearing technology part handled by SAMR.

History
Principle
The various types of bearings
Calculating a bearing
Fitting a bearing
Causes and mechanisms of failure

Vibration analysis part handled by Dynae.

Norms and standards
Symptomatic vibratory typologies of common faults encountered
Measurement chains and monitoring systems with displacement probes
Signal processing in steady state

The advantages

Complementarity of the technological aspect handled by SAMR and the vibratory behaviour handled by Dynae.
Visual analysis of shells with faults.
BVE Course – Noise and vibrations linked to diagnosis flows and solutions
Course developed in collaboration with the CERG
Duration

Venue

CERG Grenoble (Le Pont de Claix)

Prerequisites

Knowledge of vibration measurement

Objectives

Understand the mechanisms influencing the noise and vibrations of hydraulic & aeraulic circuits, reactors, furnaces, boilers, etc.
Know how to diagnose the causes thereof, assess the risks, design.

Target audience

Staff in charge of studying the design of this equipment, monitoring or maintaining it: engineering firms, design offices, static inspection departments, maintenance departments.

Programme

Basic fluid mechanics reminders
Noise and vibration reminders
Sources of excitation linked to rotating machines, flows, wave propagation ... Physical phenomenon, methods of diagnosis and correction at the source
Risk and nuisance assessment
Noise and vibration reduction methods: cowling, silencer insulation, shock absorbers, etc.
Illustrative practical work on CERG learning benches.

The advantages

Training given in association with a CERG fluid mechanics specialist
Dedicated test benches with practical work
VS course – Dynamic analysis of structures
Measurements and simulation by finite element calculations
Duration

Prerequisites

Knowledge of vibration measurement
Prior participation in the Vi course is recommended.

Objectives

Knowing how to identify a dynamic structural problem, knowing the tools available for solving these phenomena

Target audience

Design office staff, engineering firms, maintenance department.

Programme

Dynamic variables dedicated to structure analysis and measurement: natural frequency, stiffness, damping, illustration on a system with 1 degree of freedom
Vibration isolation: principles, traps, existing decoupling systems
Identification of a resonance phenomenon
Experimental modal analysis: usefulness, main principles, presentation of an exhaustive approach, identification methods

Structural changes:

Simple modifications (addition of mass / stiffness)
Other solutions: shock absorbers and dynamic absorbers
Use of a finite element model: the broad outlines of a modelling, the various ways to reset a model with respect to measurements, resetting tools, applications

Case studies.

The advantages

Confrontation, practical approach and modeling
Practical work